My name is Mathilde. I am an urbanist, visual communicator and collaboration facilitator passionate about generating positive changes and more cooperation in cities.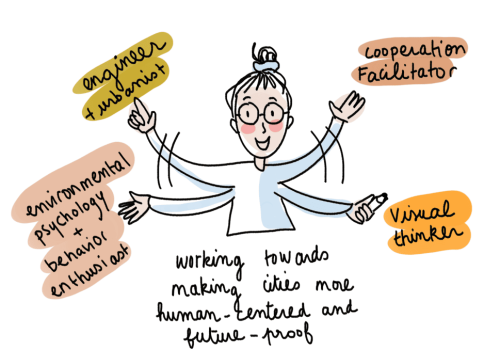 I currently live in Copenhagen, Denmark, where I get to experience what a liveable city can look like every day. I work with local organisations and have 3+ years' experience in participatory and sustainable city making. I have led a dozen of urban projects, where I designed and facilitated collaborative processes with cities, associations, companies, and citizens. In practice, I have designed and animated more than a hundred workshops.
I have always been fascinated by cities. But unlike people who go on city trips to visit iconic monuments, I observe everything that happens between buildings: the people, the way they interact with the city, the layout, the walking paths, and the many human stories, real and imagines.
You can imagine my disappointment when I realised that in my civil engineering and urban planning studies, "life between buildings" was not part of the curriculum. Committed to learning more, I pursued my studies in Sweden, focusing more on placemaking, collaborative tools for city making, urban sociology, and urban design. In other words, I learned more about how to design cities for people instead of for cars.
This inspired my passion for everything that could help me understand the behaviour of people and the dynamics of behaviour change in cities. I believe that the actors in a city have a role in transforming urban spaces into places that can unlock human capital and promote empathy, open-mindedness, and cooperation – these qualities are key to prepare our cities for the challenges of the future. And that is why I want to help placemakers realise their full potential and communicate their amazing ideas and initiatives.
If you would like to find out more about the human, almost invisible dynamics in the city, visit my blog – you will also see how I visualise these fascinating interactions (which I call the urban mycelium).
And if you want to dive right in, visit my resources page to find free printables that will help you start your placemaking process.
Welcome!