Out of the Blue: collecting the voices of the harbour
The urban waterfront plays an important role in Copenhagen. There are many ways to explore the unique connection people have to the water, but theatre is one of a kind.
Out of The Blue is an immersive theatre performance set in Nordhavn, which aims to showcase and celebrate the changing landscape of the waterfront and honour the relationship people have with their harbour.
This experience is led by Assemble Theatre Collective, a group of Danish and international theatre makers. Their particularity is that they use unique locations, interactive performances, and immersive techniques to engage with new audiences and make people think.
The originality of this piece is that it has been in development for over two years, building on the stories of real people living and working in the harbour area. 
During 2021 and 2022, Assemble Theatre conducted a series of workshops, walks and interviews to better understand the relationship the Copenhageners have with the harbour. They identified different issues around the harbour and reached out to local stakeholders living and working in the harbour area.
I participated in one of these events during the Kulturhavn Festival in Nordhavn in August 2022. The objective was to engage the public and gather their views on the harbour's development through a series of community engagement and mapping exercises, interviews, graphic recordings, meditations and improvised sound performance.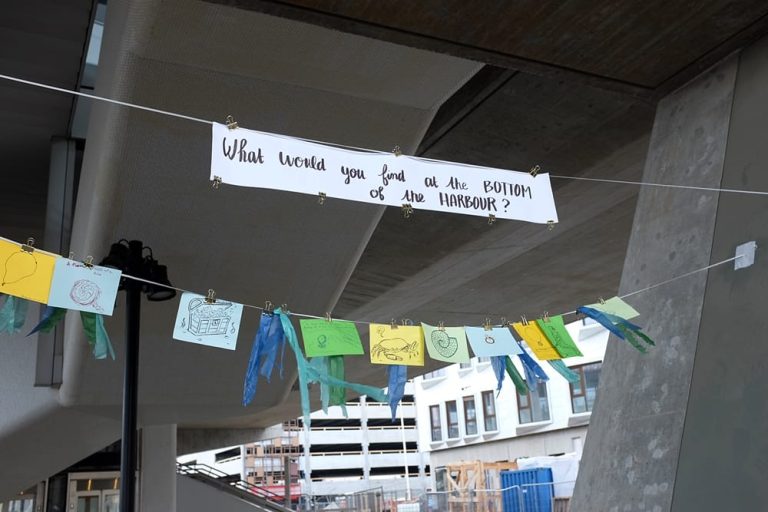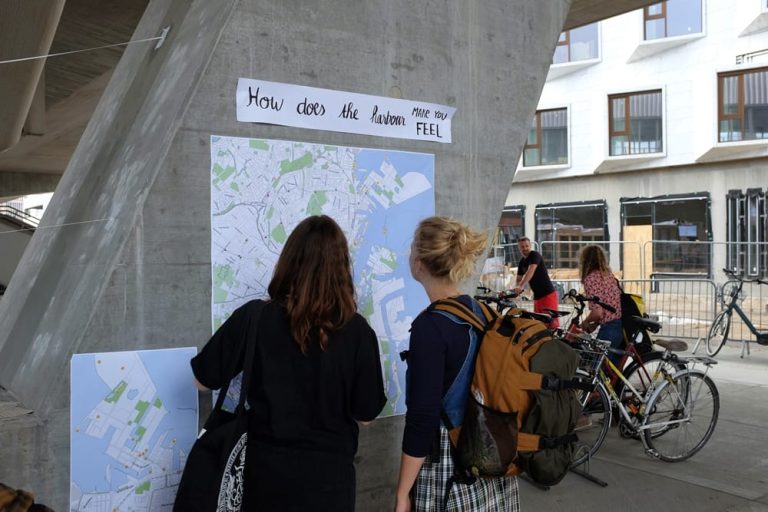 I facilitated an interactive visual experience out in public space, with the objective to bring people's memories to life.
I prepared a poster in advance and set it up outdoors near the entrance to the metro station. One of the actors helped me engage people and capture the essence of their stories. As I drew, more people were curious and came to ask questions or contribute. This collaborative process involved people of all ages and nationalities, resulting in a collective landscape of harbour stories.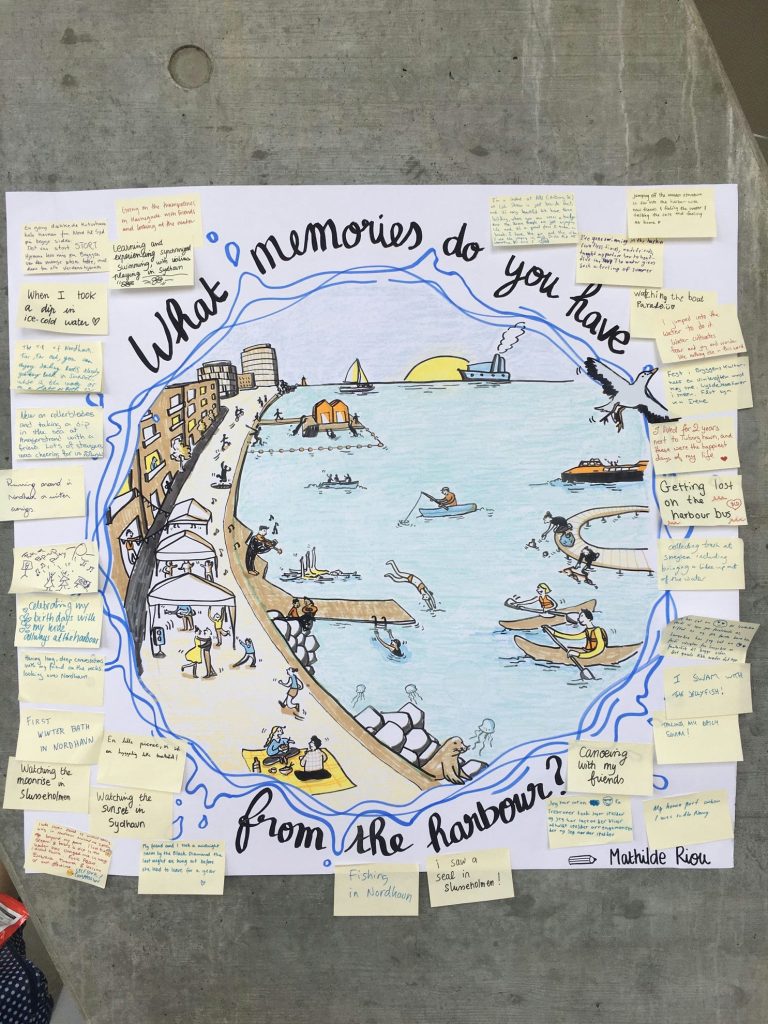 From this workshop and the many others that Assemble Theatre Collective has conducted, specific scenes were developed and scripted with the actors.
Are you as curious as me to see the result of this fascinating process? The show will premiere on August 11th in Nordhavn, Copenhagen. You can find more information and buy tickets here.
This project is initiated by Carol Hayes, director of the theatre collective, and supported by Østerbro Lokaludvalget, World Capital of Architecture, Bevica Fonden, and Kulturdistriktet.
Let's elevate your impact
Are you looking for placemaking visualisations to convey your message in a compelling way? Do you want to make your citizen participation events more inclusive with engaging visuals?
Get in touch with me here to book a free introductory chat and learn how I can support you!