How to incite residents to shape a neighbourhood they truly love?
City Néo is a consultancy firm specializing in citizen engagement and community building for residential and urban projects.
One of their key services involves facilitating participatory processes in residential areas, inviting residents to actively shape their neighbourhoods and establish positive relationships with their neighbours. They work closely with existing or future residents, depending on whether it's an established area or a forthcoming project, helping them shape shared spaces and fostering strong social connections that eventually empower them to independently manage these spaces.
But how do you get people to participate in the first place?
While participation cannot be forced, City Néo believes in reducing barriers – and the first step is a clear, visually appealing invitation.
"In our work, we organize workshops with residents to foster connections among neighbours. It is not a very common approach and it can be challenging for residents to grasp the benefits for themselves. That's why we needed a document to present the participatory process in a clear and engaging way."
Margot Auvray, project manager, City Neo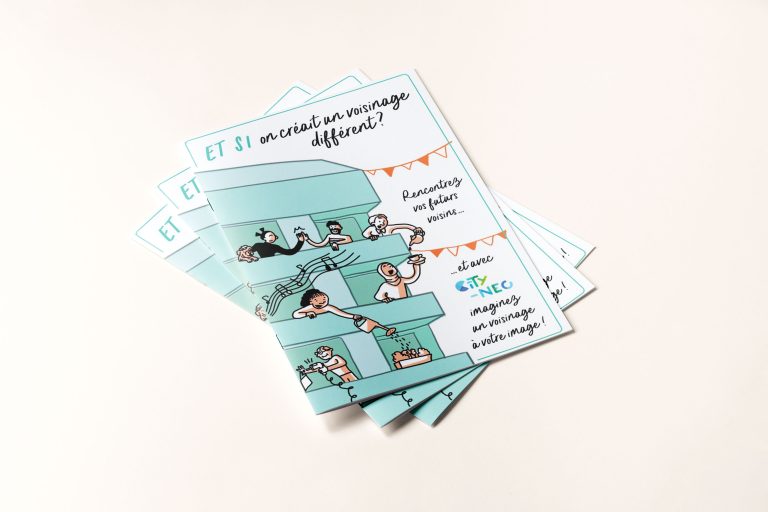 To achieve this, we analysed their existing approach and identified the benefits of participation for residents. Instead of traditional formal letters delivered by the mail, we opted for an A5 booklet filled with illustrations, making the message more accessible, engaging, and overcoming language barriers. There was ongoing collaboration between City Néo to define the right tone, information, and visual atmosphere.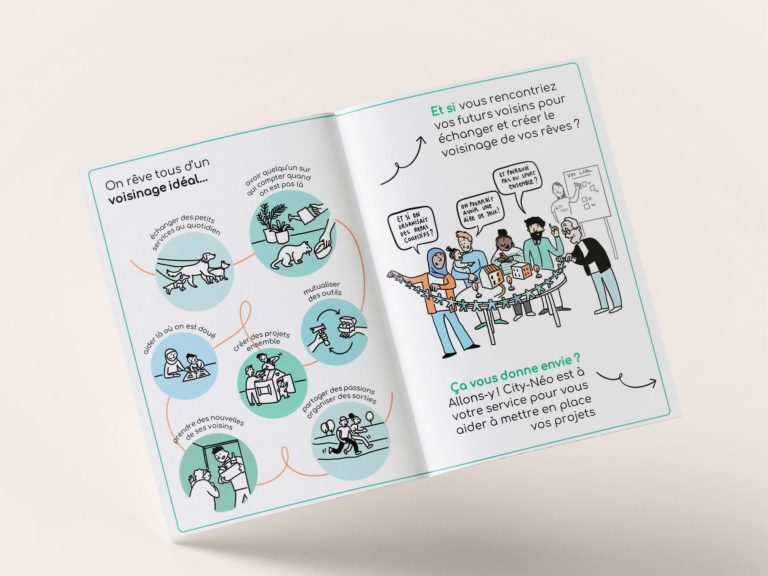 "The booklet Mathilde created for us beautifully illustrates our process. Every time we share it, residents show genuine interest. They like to flip through the pages, read it attentively, and often take it home. We've had to reprint it several times already.
Although we had a clear vision in mind, we would have never achieved such a result without Mathilde's expertise. She is familiar with our work and quickly understood the challenges we face. We appreciated our constructive collaboration, working closely together to improve the booklet's design step by step, all within a tight timeframe. The booklet has become an essential tool in our day-to-day work."
Let's elevate your impact
Are you looking for placemaking visualisations to convey your message in a compelling way? Do you want to make your citizen participation events more inclusive with engaging visuals?
Get in touch with me here to book a free introductory chat and learn how I can support you!