Turning a tender submission into a visual story
In the world of urban development, the requirements for tender submissions are increasingly demanding in terms of time and resources. The extensive list of criteria now resembles detailed project proposals, meanwhile causing information overload for the reviewing committees. Real estate developers face a genuine challenge in distinguishing themselves amidst a sea of high-quality project proposals, and Giboire Group is well aware of this.
They reached out to me about a call for tenders for the development of 150 apartments in a town close to Bordeaux (France), with the intention to convey the team's ambitions and proposal in a visually appealing and concise way.
Our initial meeting focused on clarifying the project context and urban challenges. We delved into the project's ambitions, even though it was still a work in progress at that stage. With this material I could identify the team's unique value proposition (something which is easier for me as I have an external perspective!).  
Based on this foundation, I made design recommendations regarding both content and presentation style, including visual vocabulary and colour choices. Our collaboration involved a couple of meetings, to ensure I could share my progress and update the visuals as the project evolved.
"Mathilde proposed two illustrations: a mind map to present the main aspects of the project, and a comic strip to portray the everyday life of a young retired couple within the building block. The outcome was not only clear but also very original. It was perfectly aligned with our expectations, and on the first try!"
Patrick Nicolas, Head of Operations, Giboire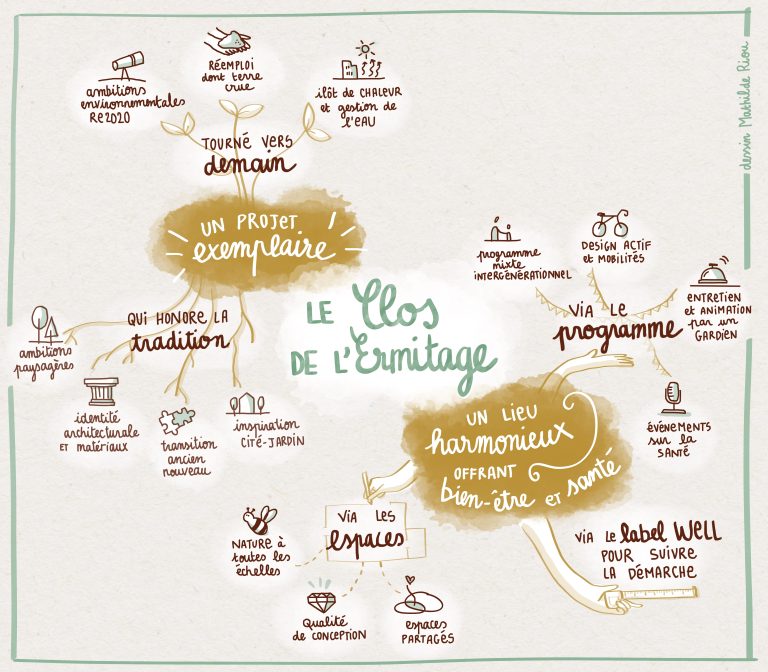 Personally, I really enjoyed creating the comic strip, portraying a fictional day in the life of future inhabitants. Urban projects often tend to be represented from an aerial perspective, with master plans. While these are necessary, they are less effective in helping people envision the experience of living in the future neighbourhood.
As humans, we naturally engage with things at eye level. By foreseeing potential uses and views, we enable jury members, future residents (and even members of the project team) to better imagine how the neighbourhood will feel like.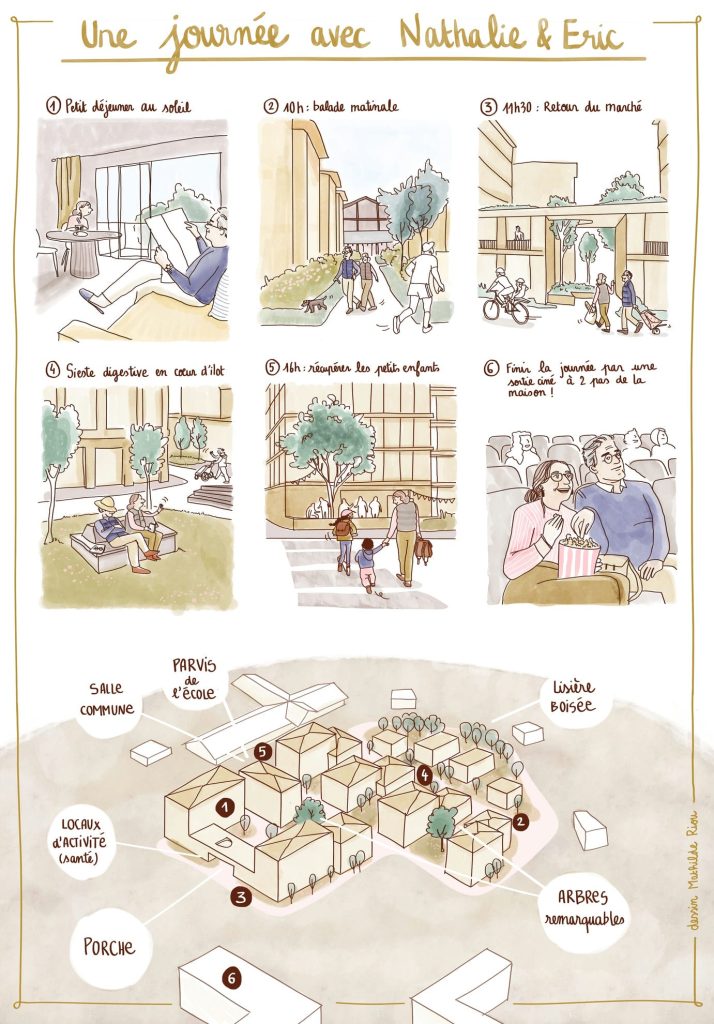 "It was a great pleasure working together, Mathilde! Thank you for your enthusiasm, patience, and good humour at every stage of our collaboration. Beyond the quality of the deliverable, I really appreciate the intelligence with which you grasped the subjects at hand. You have a deep understanding of our often complex urban and real estate challenges and you manage to make them clearer and more accessible through effective illustration and layouts. You were very attentive to our needs in terms of graphic production, and your work perfectly met our expectations."
Want to make your urban development projects more impactful with captivating visuals? Get in touch with me today to explore how visual storytelling can bring your ideas to life and set your proposals apart from the competition.
Let's elevate your impact
Are you looking for placemaking visualisations to convey your message in a compelling way? Do you want to make your citizen participation events more inclusive with engaging visuals?
Get in touch with me here to book a free introductory chat and learn how I can support you!