På Byens Vegne: What makes you feel included in the city?
Kulturdistriktet is on a mission to transform Copenhagen's Nordhavn and Østerbro districts into into attractive cultural destinations. Through festivals, conferences, and networking events, the organization unites people around art and cultural experiences, fostering a sense of community, collaboration and networking in Østerbro and Nordhavn.
Every year, Kulturdistriktet organizes " På Byens Vegne," an experiential conference on culture in architecture. Held in various iconic buildings in Østerbro and Nordhavn, the conference brings together urban actors, cultural institutions, artists and companies to discuss the potential of culture in urban development, focusing on a new theme each year.
På Byens Vegne 2023: The Inclusive City
This year's conference was organised as part of World Capital of Architecture 2023 and took place the 25th of May on the theme of the Inclusive City. The event was organised in collaboration with Kultur & Fritid Østerbro, By & Havn, Bevica Fonden, Byens Netværk, Volcano and Copenhagen in Common.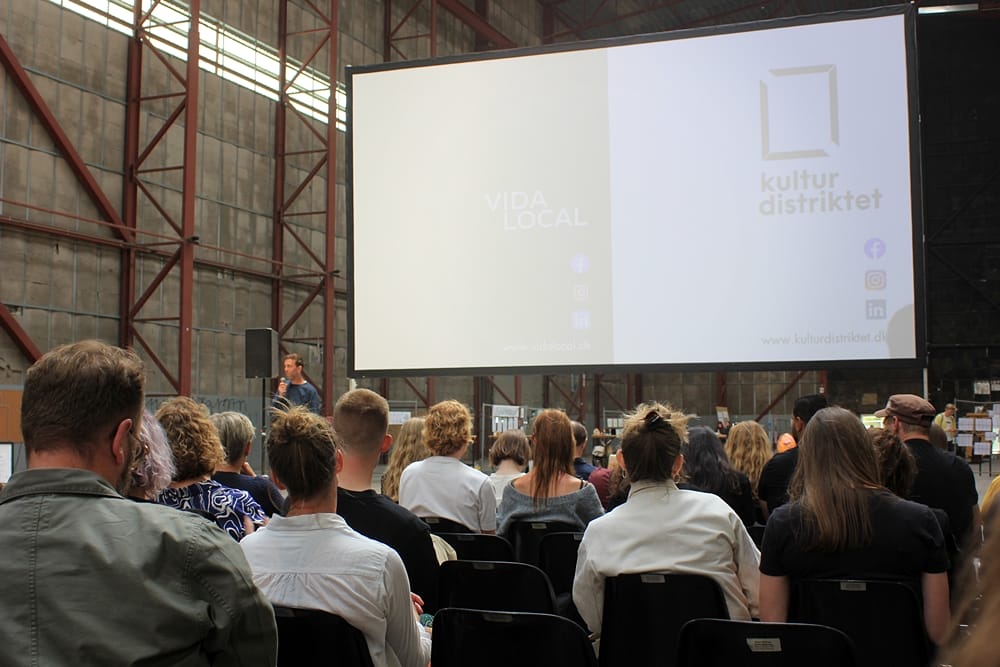 The day was filled with a diverse program. There was a "marketplace" where local artists and placemakers shared their work, presentations on universal design and art as a driving force for inclusion, case studies from Sydhavnen in Aarhus and Orientkaj in Nordhavn…
Camilla Van Deurs, the city architect then talked about Copenhagen as the World Capital of Architecture. The day ended with an artistic performance and a social dining at Odds and Ends, one of the most exciting new venues in Nordhavn.
Definitely not an ordinary conference, which attracted participants from various backgrounds and perspectives. The question then is: how do we encourage everyone to engage with the topic of inclusivity in the city, instead of being idle observers? How can we capture people's thoughts under a limited time?
An interactive visual experience
As part of the Marketplace, I organized an interactive visual experience where I asked participants to answer the question: "What makes you feel included in the city?"
Throughout the session, participants wrote their answers on post-it notes, which I then sorted through and organized into key themes. During the conference, I transformed the contributions into drawings, gradually filling up the poster until there was no more space to draw.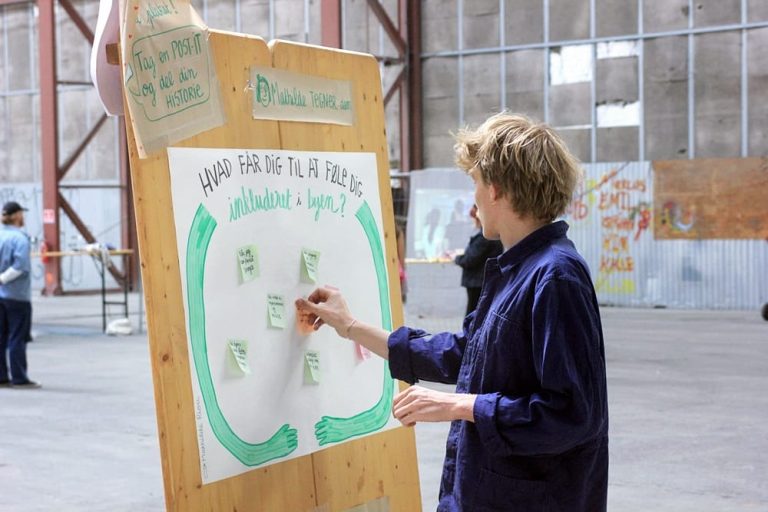 My own contribution? "I feel included (in Copenhagen) when I finally can understand the language and participate in the social life in Danish" 💬🙃
The resulting 1m x 1m mural provides an interesting perspective on inclusivity, reflecting the views of a predominantly white, well-abled, well-educated audience working in architecture, urban planning, design, and placemaking. People were thrilled to see their ideas illustrated and read others' contributions, turning the artistic performance into a space for conversations around inclusivity.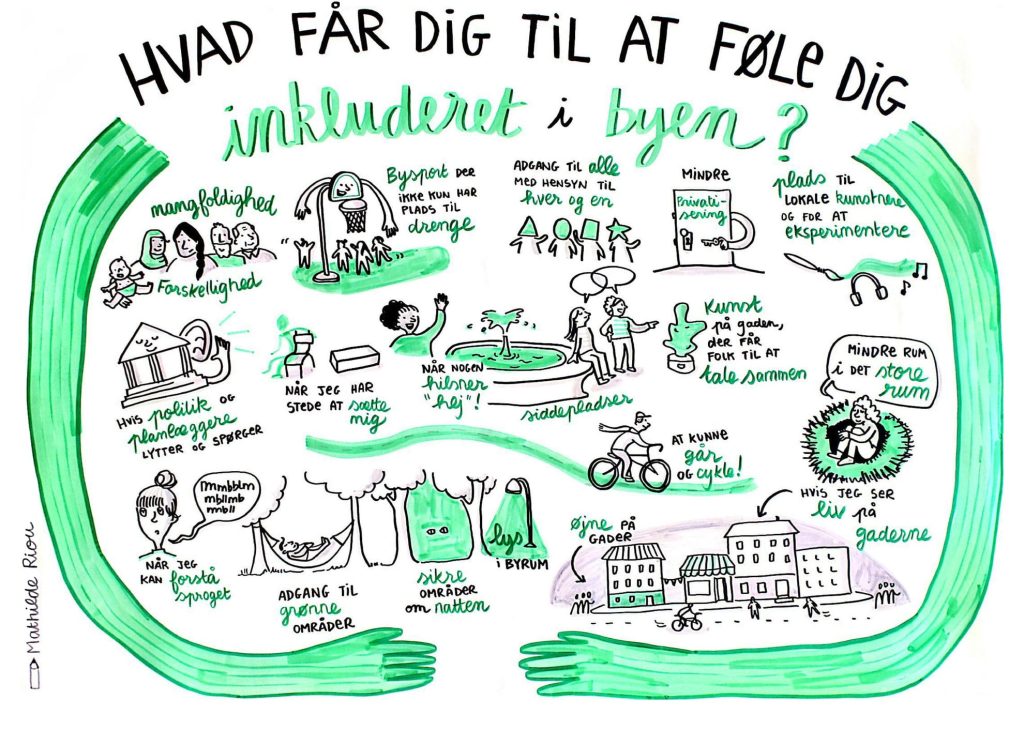 Want to empower your community with interactive visuals that come to life before their eyes? I'll be happy to help you make your next project an immersive and memorable experience! Leave me a message here and I'll come back to you shortly.
Let's elevate your impact
Are you looking for placemaking visualisations to convey your message in a compelling way? Do you want to make your citizen participation events more inclusive with engaging visuals?
Get in touch with me here to book a free introductory chat and learn how I can support you!